When I was growing up, being in a vocal ensemble often meant singing classical songs that I didn't recognize or melodies that just weren't fun to me.  The group I'm going to share with you has helped re-invent my idea vocal groups.
I introduce to you:  On the Rocks, an all male acapella group from the University of Oregon in Eugene!
They have a fun, humorous take on music and often remake hit songs by current popular artists, major artists from the past or "one hit wonders".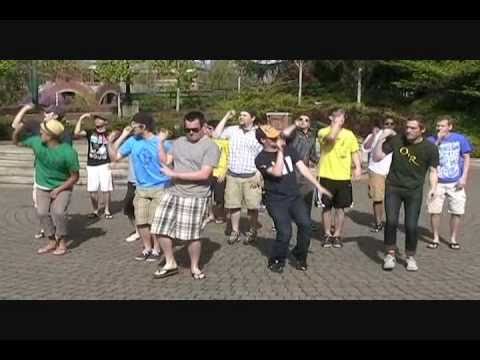 Above you can see one of their renditions of "Bad Romance" by Lady Gaga (who seems to be all over the place these days, doesn't she?).
On the Rocks has a whole battery of material available on YouTube.  Here are a few more gems: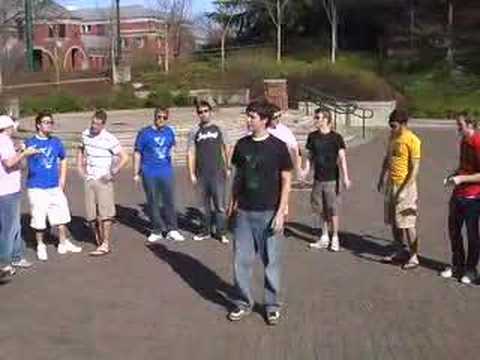 On the Rocks performing "For the Longest Time" by Billy Joel.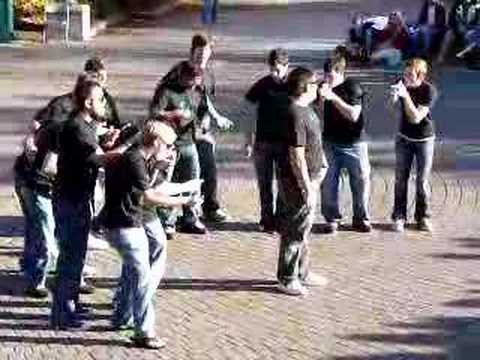 On the Rocks performing "Superstitious" by Stevie Wonder. 
This one has a slightly lower quality video, I had to turn the volume up a little to really enjoy this one!  I am a pretty big Stevie Wonder fan, so this especially appeals to me.
 While looking at all these videos by On the Rocks I found that they have female counterparts: Divisi.  Why don't you try to find some vocal groups singing modern songs in new arrangements and let me know what you find?  Finding new groups (and a new way to look at music) is such fun!!
I was wandering around the internet this weekend and found this neat video on Wired.co.uk.  Per the article written by Michael Conroy in the September 2009 issue of Wired, Brazilian composer Jarbas Agnelli saw a photo of birds on powerlines that appeared like music on a staff.  Agnelli used the positions of the birds as notes and came up with a simple melody. 
In the video below (linked directly from Mr. Agnelli's Vimeo site) is the music he composed with the help of birds.
http://www.vimeo.com/6428069
This is a great reminder that music is all around us, and we can find music or an inspiration for a new song anywhere if we just look.  Have you been inspired you lately?  I would love to about what inspired you, and what you created!  You can use the form below to share with us.  Lucky composers may have their work featured on our blog! 
I can't wait to hear from you…

To me, recitals are an important part of music education.  They're a time for students to show off and make all that hard work and practicing worthwhile.  At this year's Twin Cities Spring Recital we had  many students playing different instruments and a lot of family support.  It was great to see everyone there!  I was especially excited to see that there were both performers from our last recital as well as new performers. We had a great time!  Everyone all did a fantastic job with their pieces and we were very impressed!
We had a raffle for a flowering plant and two tote bags, which the lucky winners got to take home after the recital.
Because of the number of students participating, it was hard to fit everyone in one picture, but we tried!
Do you have photos you want to share from this recital?  Feel free to send in your own photos for us to share!  Email cs@alongcamemusic.com
The theremin was created by a Russian inventor, Leon Theremin (this is an Anglicized version of his name), in 1920 who you'll see below playing his invention.  Theremin patented his invention in 1928.
It is an instrument played without being touched.  The performer uses their body (primarily hands and fingers)  to change the pitch and volume.  This is an extremely subtle instrument that is very difficult to master.  See the video below to watch the theremin be played by it's inventor.
While initially created during a project for the Russian government, the theremin is now popular for use in soundtracks as well as modern rock or independent music groups.   The theremin can be used to play classical pieces as Leon Theremin's student Lydia Kavina shows in this rendition of "Clare de Lune".  Ms. Kavina has become one of the most sought-after instructors of this unique instrument. 
Finally, an example of other ways to use a theremin!  Check out some of this guy's other links on YouTube, he also plays video game themes and other popular music covers.
Enjoy!
For more information about the theremin, please check out this Wikipedia Article about the subject.  You'll be amazed at the different uses, sounds and skills produced and utilized by theremin players.
 Our spring recital in Rochester was such a success!  Here's a photo of the students (and teacher) that made it happen!
The recital was fun; filled with smiles, some jokes and excellent performances!!  While the group of students participating in this recital was not as large as others, we all really enjoyed the close, comfortable feeling that came with such a cozy group.  We are so glad that we were able to see everyone's performances, and it was great to meet family members of students.  We look forward to the next recital.  We just know there will be many students eager to show what they've learned by the time our next recital rolls around. 
Along Came Music is a member of the Minnesota Music Teachers' Association (MMTA).  We're proud to be part of this community that fosters a love for music and supports music educators.  Both aspects are so important to ensuring that music education remains strong and accessible!
Through our membership with the MMTA we learned of a program called MusicLink.  MusicLink, the MMTA and Schmitt Music will be sponsoring a Play-A-Thon where students gather pledges similar to  sponsored races or walks.  Pledges are made per song, so if a student's family pledges $5 and the student plays two songs the family donates $10. 
All donations are tax deductable and a receipt will be offered.  Students of all instruments can play up to two songs apiece, in any style.  They can even play in duets!  Pledges gathered will be pooled together and used to help disadvantaged children get music lessons, access to instruments and printed music, etc. 
We have asked our students to participate in the Play-A-Thon and are hopeful that many will choose to perform.  The performance will be held at the Mall of America on May 1st and 2nd.  We are so excited to make donations to MusicLink and their very important program through the participation of our students!  If you are interested in participating, please fill out the application to participate.   To pledge donations for a student's performance, fill out the pledge form and follow the instructions on how to submit the form and your donation. 
For information directly from MMTA about the MusicLink Play-a-thon, click here.
I share a house with several others.  We're all friends (and musically inclined!) and most of us have known each other for years.  We all have lived other places before coming to call our current house home, and because of that, we all have a lot of stuff.  Furniture, knick-knacks, cookware, musical instruments, etc can all be found in duplicate or even triplicate.  The house was becoming cramped and very cluttered with so many things.  To help remedy the situation we re-arranged, put some things in storage and I brought my full size electric piano to a friend's house. 
I showed up at his house and the pure glee on his face when he saw the piano and heard me say, "I thought I would ask if I could keep this at your place for a while." was just humbling.  I've had this piano/keyboard for longer than I've had this friend!  I know I take it for granted, and this was a reminder of how lucky I am to have it.  The first thing my friend did was clear a space for the keyboard.  He set it up and sat down to play.  He and another friend (both of whom have never had piano lessons, unlike me with 13+ years of lessons) went on the internet, looking for tutorials on how to play The Imperial March from Star Wars (which is outside my frame of reference, but I hear it's pretty cool), the Peanuts song and a number of other TV and movie related pieces.  After a while I decided to wow them with my finesse on the keyboard and as I sat down I proudly announced, "I'm going to play The Moonlight Sonata by Beethoven (the actual name of the piece is Piano Sonata No. 14 in C-sharp minor "Quasi una fantasia", Op. 27, No. 2, but it is also known as The Moonlight Sonata).  It's one of my best competition and performance pieces."  And then played something that was not the song I intended, in fact, I don't even know what it was!  After several attempts I conceded that I no longer had the piece memorized and needed the music to remind myself.  But I hadn't brought my sheet music with me, that was still at home.  I took a turn on the internet and found an audio file of the song and listened carefully.  I sat at the piano again and worked out the first few bars, my fingers moving toward the keys I knew I was supposed to play but I was still unsure as to which keys were the right ones and I stumbled and painfully made my way through a really unrecognizable version.  What do you do in that instance?  Try again of course!  So I listened again to the recording, this time playing along on my piano.  I still didn't have it perfect but it was much better than my original attempt. 
My friend, following along with the Beethoven theme, brought up Piano Sonata No. 8 in C minor, Op. 13, or Sonata Pathétique asking me if I could play it.  This composition continues to defeat me.  I can muddle my way through it, but I am not anywhere near to performance ready with it, nor am I playing it the way that I'm sure Beethoven himself meant it to be played.  Just listening to this piece makes me green with envy.  Someone else can play this?  It inspires me to practice and finally master this beast of a song.  From Sonata Pathétique  we moved on to Rachmaninoff (I sure have been into him lately!), Tchaikovsky and Rubenstein, just to name a few.  My friends were surprised at how excited I became talking about these different composers, their relationships with each other (Rubenstein was an inspiration to Rachmaninoff and tutor to Tchaikovsky), and their music.  I don't usually talk with my friends about classical music or composers.  Our conversations usually center around modern day musicians ("Hey, did you hear the new  album by…" is a common start to a conversation in my social circle).  It was refreshing and fun to talk about the differences between composers and the periods or styles they composed in.  There are so many differences to discover!  Even more interesting to me is all the connections and relationships that so many of these musicians had with one another.  My friend asked me how I became interested in classical music and I explained that my musical tastes were really influenced by my piano (and voice) lessons that I took when I was younger.  My teachers introduced me to different composers, different musical styles and encouraged me to continue to explore on my own.  It seems that every day I'm reminded of how much I took from my piano lessons, and many times what I learned isn't even related to the piano!   Have you ever noticed that?  I'd love to hear!
My favorite piano teacher's name was Patti.  I remember being scolded for not cutting my nails, praised for mastering an assignment and feeling nerves race around in my stomach as I was called up to perform in recitals.  I had a number of teachers before and after Patti.  They were good teachers.  Actually, they were more than good teachers, they were fantastic teachers.   
So why was Patti my favorite teacher?  I can think of a number of reasons but I'll share just the top three:
She took my interests into consideration.  This didn't mean I got to play every song I wanted to or that I didn't have to complete exercises or assignments I disliked, but I know that my musical tastes were something she thought about when selecting pieces for me or choosing which direction to take me next (do we explore jazz or compositions of the romantic period?).  It is so evident to me now in retrospect that I am amazed at how much time and energy she put into her students.  I know I was not the only one to benefit from her attention to detail!
She  held me accountable.  I had more lessons than I would like to admit to that ended in Patti telling me she knew I could do better or that she could tell I hadn't practiced my assignment the way she instructed me to.  As a kid I was full of clever tricks on how to "get out of" things I disliked such as practicing piano and household chores.  I would set the practice timer for half an hour and go to the piano.  I would adjust the bench, I would take an extra-long amount of time reading over my assignment book.  I would shuffle through my lesson books "trying to find the right page".  I played Peter, Peter, Pumpkin Eater more times than I could count (but only when my parents weren't home!) to "warm up".  And once I had all my pre-practice preparations taken care of I would play each assignment once, twice, maybe three times before moving on to the next assignment.  I even had weeks where I would do nothing but play old assignments and Heart and Soul instead of my current assignments, which forced me to sightread my assignments at my lessons.  Some weeks I got away with it, but more likely was that I got caught.  Oh, the shame of being caught!  Eventually Patti made me realize that the point of practicing was to get better at playing piano and when I cheated at practicing I was only cheating myself out of progressing to exciting new skills and music that was more interesting and fun to play.
She challenged me to improve.  This is close to holding me accountable, but different in that Patti would use new pieces of music like a bribe.  "If you master this concept you can finally play that Rachmaninoff song you've been waiting to learn" was a common refrain (well, the name of the composer changed depending on my skill level at the time).  I would like to take a moment to point out that Rachmaninoff had gigantic hands and an extraordinary amount of talent, and for me his compositions are some of the most difficult pieces I have ever worked on.  I have not mastered a single piece of his to my satisfaction and it frustrates me to no end.  Patti's faith in my abilities and (at times) the sheer will she used to push me to do better and better have molded me for my lifetime.  She is the person I credit with showing me how to focus on fixing rather than focusing on the flaw.